Home
Newsroom
Newsroom
The Latest News from Dabeeo
[GeoIntelligence] 3D reconstruction from multiple aerial images
2023-05-24
조회수 1159
[GeoIntelligence] 3D Reconstruction from multiple aerial images
Dabeeo's geo-intelligence technology can be used in a variety of ways.
For example, it can be used to create indoor maps for use on the web, in apps, and in kiosks by automatically converting images into vector data using the geospatial information editor STUDIO. It can also be used to analyze large spaces such as cities and forests with geo-intelligence technology to detect and analyze specific objects and changes.
Dabeeo's technologies and data are applied to different fields, but they all have one thing in common❗: they are efficient.💪
The 3D reconstruction technology that we will introduce this time is also attracting attention because it can create high-quality data at a low cost. These 3D data are considered to be essential data in the digital twin environment.
---
Recently, our research team is working on 3D reconstruction of Seoul using ✈aerial images provided by the National Geospatial Information Institute.
The scope of the sample covered in this content is about 25% of the entire Seoul area (about 600km2). The time it took to 3D reconstruct the area was about 19 hours, and if we calculate this arithmetically, it is estimated that it will take about 76 hours to model the entire Seoul area in 3D.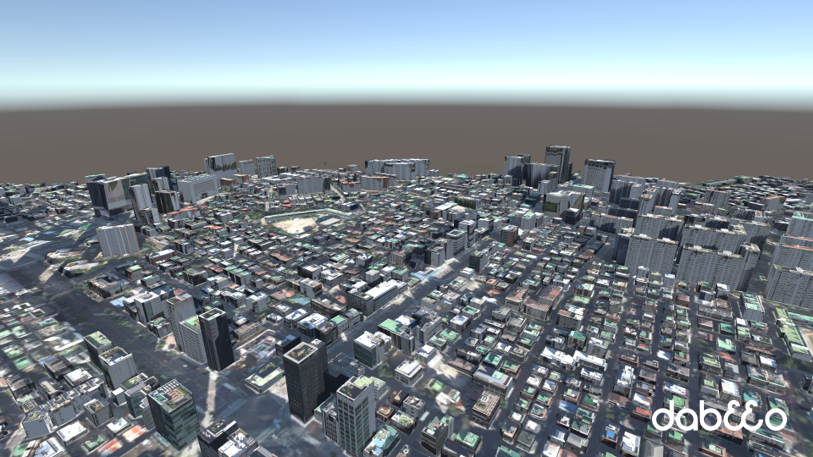 However, in reality, even with the same public data, the overlap rate and image resolution vary slightly from region to region, so the work time varies depending on the work section. This is because the higher the resolution, the longer it takes to reconstruct the 3D data, but the more detailed the modeling result is. Still, it is a great meaning that we have achieved 3D reconstruction at the LOD 1.2 level using public aerial data.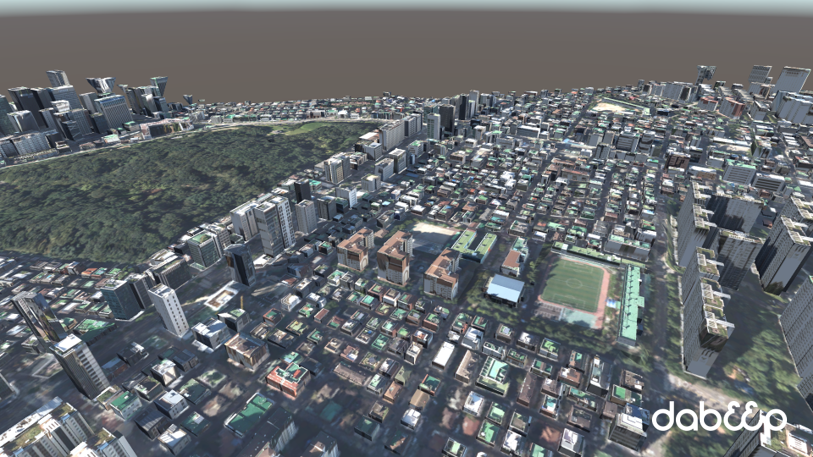 The image was captured by implementing data in Unity, a 3D engine. It can be seen that it was 3D reconstructed into a relatively realistic image with a final resolution of 8cm and an average overlap rate of 60%. However, there are some areas where the height of the buildings is not properly reflected. In this case, the 3D reconstruction was not done because the aerial photo was not provided, and it can be seen as the limit of public data.
In addition, Dabeeo can use the true orthophoto technology that we have introduced before to extract the exact shape of the buildings. Although the aerial photo itself is already corrected to some extent, it is possible to use the images created by using Dabeeo's ultra-precision orthophoto technology to create accurate 3D spatial information.
If you haven't seen the content of the high-precision true orthophoto technology, to improve the accuracy of the extracted data,🏸
🔗[BLOG] True Orthophoto Technology
Here are the two things I want you to remember about Dabeeo's 3D Reconstruction technology.
📌 We used public data from aerial images.
It is possible to produce LOD 1.2 level data using only the aerial images provided by the National Geospatial Information Institute (NGII).
📌 We can quickly create results.
3D Reconstruction technology is a complex process, but we can quickly build 3D data with a deep understanding of each process and a variety of approaches.
Check out the video of the results of 3D Reconstruction using public data (aerial images)!
🔗[Dabeeo] 3D Reconstruction from multiple aerial images

---
In this content, we introduced a case of 3D Reconstruction based on public data using Dabeeo's technology.
If you have any questions or want to discuss business, please feel free to CONTACT us! 🙋🏻‍♂️🙋🏻‍♀️
Dabeeo
Join Dabeeo on the path to becoming a global leader.