Home
Newsroom
Newsroom
The Latest News from Dabeeo
Dabeeo Signs MOU for Monitoring Palm Oil Plantation in Malaysia
2023-05-04
조회수 1190
Dabeeo Signs MOU for Monitoring Palm Oil Plantation in Malaysia
- Dabeeo sets its foot onto the crop analysis market by diversifying the use of satellite images
- Plans to collaborate with Malaysian plantations to manage palm trees and increase palm oil productivity

SEOUL, South Korea - Dabeeo Inc., a geospatial information technology company based on AI, has announced its plan to introduce AI analysis technology using ultra-precision (30cm-level) satellite images to monitor palm tree plantations in Malaysia.
Dabeeo concluded a memorandum of understanding (MOU) with Saba Legend, a Malaysian GIS company, on April 28, 2023, with the aim of periodically monitoring the health of trees and promptly identifying undernourished palm trees through technical collaboration.
The palm oil plantation that has corporated with Saba Legend covers an area of about 300km2, the size of about 42,000 football fields. The two companies will jointly seek opportunities to explore precision farming in order to save the time and cost spent for managing a large-scale farm by leveraging Dabeeo's AI technology.
Dabeeo previously conducted an analysis of certain plantation areas by using a specific band (Red-NIR) of satellite images to derive NDVI (Normalized Difference Vegetation Index), a representative indicator of vegetation status.
Based on this experience, Dabeeo aims to use its AI analysis technology in future collaboration to analyze the vegetation indices of palm trees based on 30-centimeter-level ultra-precise satellite images at regular intervals, visualize the related data, and deliver it to the farm, contributing to the operations of palm oil plantations.
Mohamed Ishaber Hassan, head of Saba Legend, said, "Managing and monitoring a large palm oil farm requires a great amount of labor and time. We are very optimistic with Dabeeo corporations given Saba is a land mass state in Malaysia where 68% is covered with forest. The efficient management using Dabeeo's technology and satellite images will be highly conducive to the management of palm oil productivity. We hope that it can also lead to further discussions for the carbon markets."
At the MOU ceremony, Dabeeo's Vice President Victor Choi commented, "Dabeeo's AI technology can realize its full potential when using satellite images in various manners, such as identifying different types of trees in Saba. Through this agreement, we hope to establish a good case in which Dabeeo's technology is successfully used in the vegetation environment field."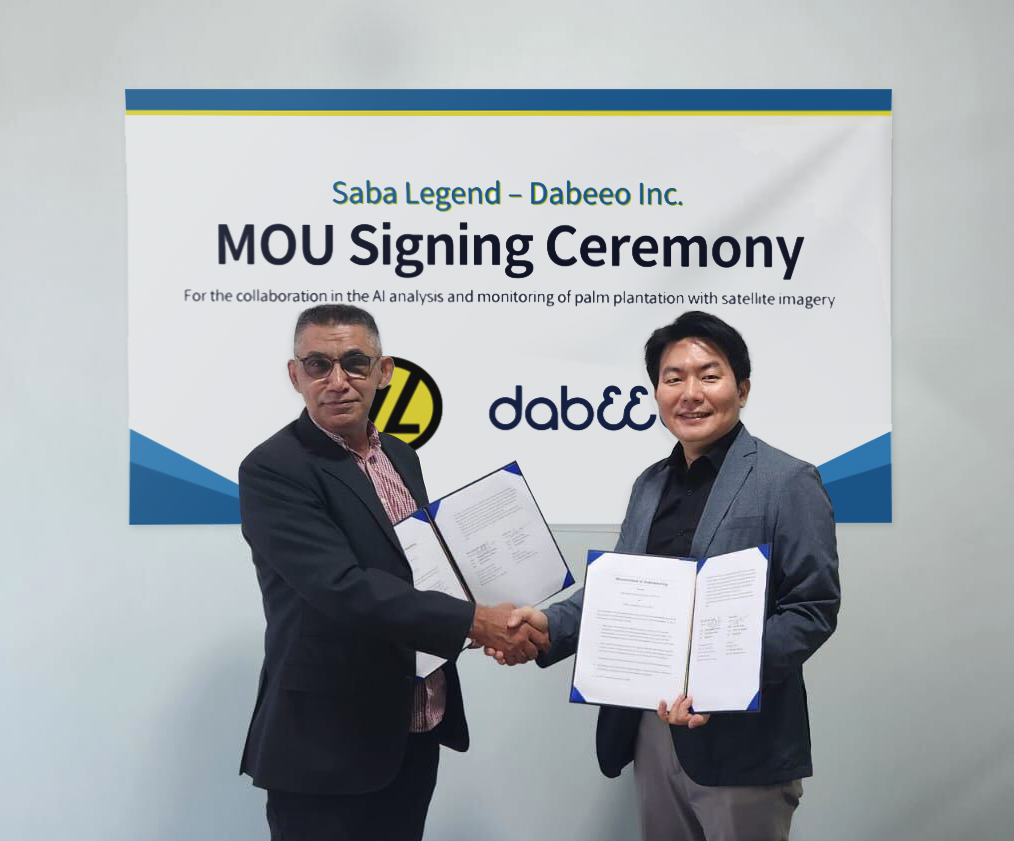 Dabeeo signed a memorandum of understanding (MOU) with Saba Legend, a Malaysian GIS company, for the purpose of monitoring the health status of palm trees on plantations using AI technology and various satellite images (Photo: Dabeeo)
Dabeeo
Join Dabeeo on the path to becoming a global leader.