Home
Newsroom
Newsroom
The Latest News from Dabeeo
[GeoIntelligence] True Orthophoto Technology
2023-03-23
조회수 1007
[GeoIntelligence] True Orthophoto Technology
In order to detect changes in illegal buildings through the creation of precise spatial information and to reconstruct 3D buildings, it is necessary to create True Orthophoto
By creating precise geo-spatial information of outdoor and indoor, you can create and analyze ultra-precise digital twins, and accurately identify problems such as change detection for illegal building detection and object detection.
I will introduce Dabeeo's ultra-precise true orthophoto technology, which is differentiated from general orthophotos
---
🧐 The difference between orthophotos and true orthophotos

In order to create and analyze ultra-precise digital twins of terrain and objects using aerial photographs, various information must be accurately matched, such as information obtained from aerial photographs in the real world, public data, and measured data using laser equipment.

Orthophotos of aerial photographs are created by minimizing the distortion caused by various factors such as the type of camera and shooting conditions. The quality of the orthophoto can be degraded due to various problems, such as the quality of the corrected aerial photograph being degraded or shadows being strongly generated due to the shooting conditions, and it may not match other 3D spatial information.
True orthophotos are therefore more suitable for use in a variety of applications, such as detecting changes in buildings or reconstructing 3D buildings.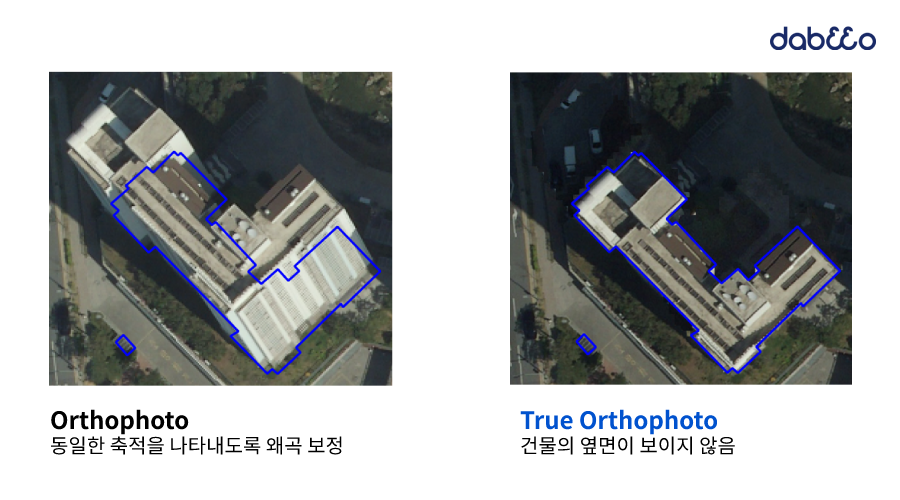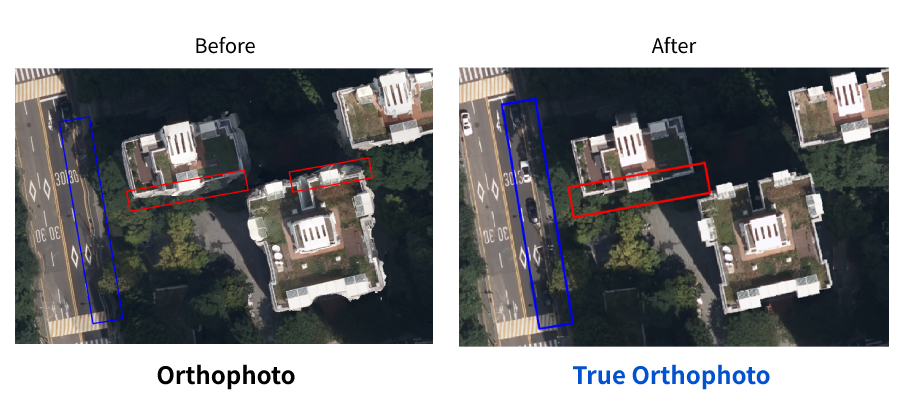 ---
🧐 The need for true orthophotos
In order to utilize 3D geospatial information that is difficult to acquire, it is necessary to create true orthophotos that are more accurately viewed from a vertical direction than orthophotos.
True orthophotos are displayed as if all topographic features are viewed from a vertical direction, so the side of buildings and other objects is not visible at all. A lot of cost is required to produce high-quality true orthophotos, such as using special shooting equipment and techniques, or re-shooting and editing aerial footage.
---
💡 Dabeeo's True Orthophoto Technology

Dabeeo can create accurate true orthophotos at a low cost through its unique technology.
Dabeeo uses artificial intelligence technology to effectively analyze the information of topographic objects and remove the effects of strong lighting, such as the sun, to effectively remove the errors in true orthophotos that often occur in large topographic objects.
Based on its accurate spatial information composition technology that spans both outdoors and indoors, such as true orthophotos, Dabeeo can accurately and efficiently solve various geospatial information problems, such as 3D building modeling in urban areas, change detection for illegal buildings, and natural connection of outdoor precision maps and indoor precision maps.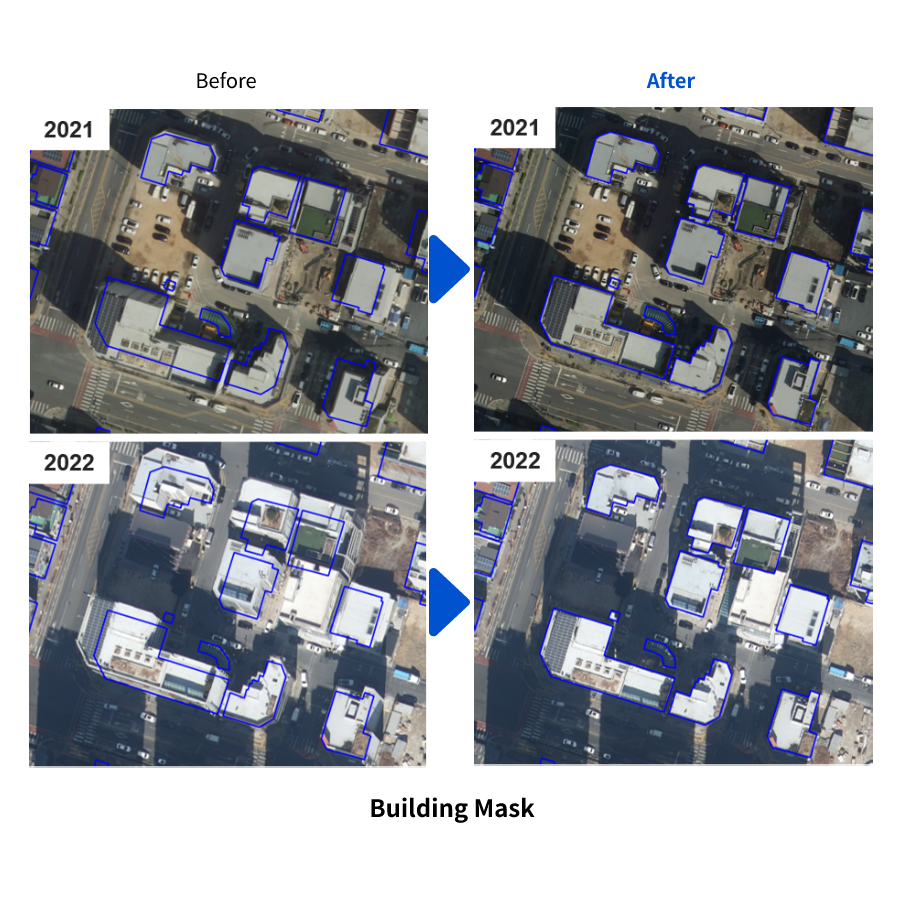 ---

Business, events, and technology news from Dabeeo will be updated quickly through the website blog.
We hope you will give it a lot of attention.😄
If you have any questions or business partnerships about Dabeeo's AI technology services, please ​​​​​​​CONTACT US.
Dabeeo
Join Dabeeo on the path to becoming a global leader.